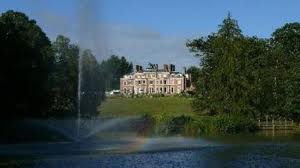 Heckfield is not a large town, but it seems to me that it's got a few good things going for it. Firstly, it is an area well-known for its walking, cycling and horseback riding trails; and secondly, it is also home to Highfield Park which is a Queen Anne and Georgian manor house. This stunning mansion made a small history for itself when it was visited by King George III and was subsequently owned – since 1819 – by successive Dukes of Wellington. It acquired another noteworthy, though short-lived resident when Neville Chamberlain, the UK's Prime Minister who got Britain into World War II, moved in at the end of his political career in early 1940. Sadly, he died shortly thereafter in late 1940.
Heckfield Place is another beautiful example of a manor home in the area. It was built in the 18th Century and is set on 65 acres of parkland. This home was owned by Lord and Lady Eversley until the mid-1980's when it became a training centre. Lady Eversley was key in the building of the local almshouses.
The Best Hog Roasts In Heckfield
Now, newly-opened in 2013 as a place to stay, I was asked to cater a hog-roast event at this venue to celebrate the upcoming new venture. It's a really ornate and beautifully tranquil place to be; and you can actually feel this lovely atmosphere even whilst being very busy catering a large event.
As their own kitchen was not yet completed and staff not ready to serve, the event managers called on myself and The Spitting Pig Company to become an integral part of this occasion. The Spitting Pig offered a marvellous hog roast hire Heckfield package to the organisers who reckoned we would be serving about 60 people on the day in a formal, sit-down dinner style.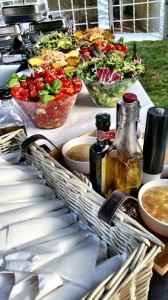 As the menu for Hog Roast Heckfield began to take shape in the weeks before the event, I decided to roast a locally-sourced hog as well as lamb. I chose to purchase a 50lb Berkshire hog and a large, rolled breast of organic lamb. The Spitting Pig was asked to provide an amazing menu of canapés which consisted of chicken satay, feta skewers and pate en croute; starters of Parma ham on warm new potatoes with a walnut and apricot dressing and a fresh seasonal soup with crusty bread. For dessert, there was to be a choice of profiteroles and vacherins of strawberries and passion fruit cream. Given this selection, I would find it hard not to sit down with everyone else and tuck in!
The Spitting Pig staff and I all arrived about 8 hours before the event began in order to prepare everything. While they set up the tables and chairs, set the plates and cutlery and made the tables look absolutely amazing, I got ready with the meats. I scored the hog, and rubbed it in a homemade mixture of olive oil with fresh herbs and salt. The scoring makes for fantastic crackling and also makes for a visually stunning piece of meat during roasting. The lamb would not take as long as the pork, therefore, I marinated it lightly in rosemary, salt and olive oil and when the hog was finished, I was able to keep it warm internally in the machine and continued on with cooking the lamb. Every other aspect of the catering was handled by The Spitting Pig in a professional, efficient manner. I knew from experience that clean up afterwards would not be a problem either, since The Spitting Pig include that in all of their assisted hog roast hire Heckfield packages.
Leaders In Our Field
At a certain point, once serving begins, it seems as though everyone has wings on their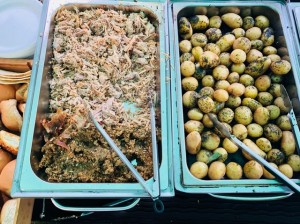 feet. It can seem downright chaotic, but I'm always impressed by the way the staff handle these situations. They are smooth and unruffled in their approach which keeps customer service at the forefront.
Hog Roast Heckfield was a smashing success. The venue is a really great place and I wish it every success. It's always a pleasant end result when I know that I have made such a positive difference in people's lives, if only for a day. The food was definitely of a high-standard and all of that goodness is absorbed by everyone around – the quality of the food, the service, and the camaraderie is second to none whenever I work with The Spitting Pig. It's truly the only way to make a business profitable, an event affordable, and a large group of people very happy.