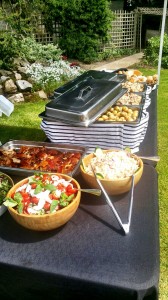 So that special event or milestone birthday is nearing and you're looking to throw the best party you can, the best in town, even? You've come to the right place — Spitting Pig Berkshire are Bracknell's only expert BBQ caterers in hog roasting and spit roasting! We're a dedicated group of trained professionals and our love is hog roasting, hog roasting, and a little more hog roasting. With years, decades even, of experience and thousands of events under our belt, we're on hand to make your celebrations that little bit more special. Having catered for a vast amount of parties and occasions, whether it's a backyard of 20 people or a field of 2,000, we're the best at what we do, and what we do is the best!
Supplying Only The Best
In the Past Spitting Pig has provided catering to private parties and events across Berkshire from hog roast Maidenhead to hog roast Caversham we have enjoyed all the parties we have been involved with. As well as the guests enjoying succulent beef, pork and chicken roasted on our spit machines, our machines are a good method of keeping guests attention and entertained. A hog roast machine is a spectacle as well as a catering option at your next party or family event. In terms of corporate events Spitting Pig is well experienced in providing catering and food for business, corporate and promotional events. We offer a clean professional service for your event and a package and menu to suit your needs. We can take care all the hassle out of your event or organisation.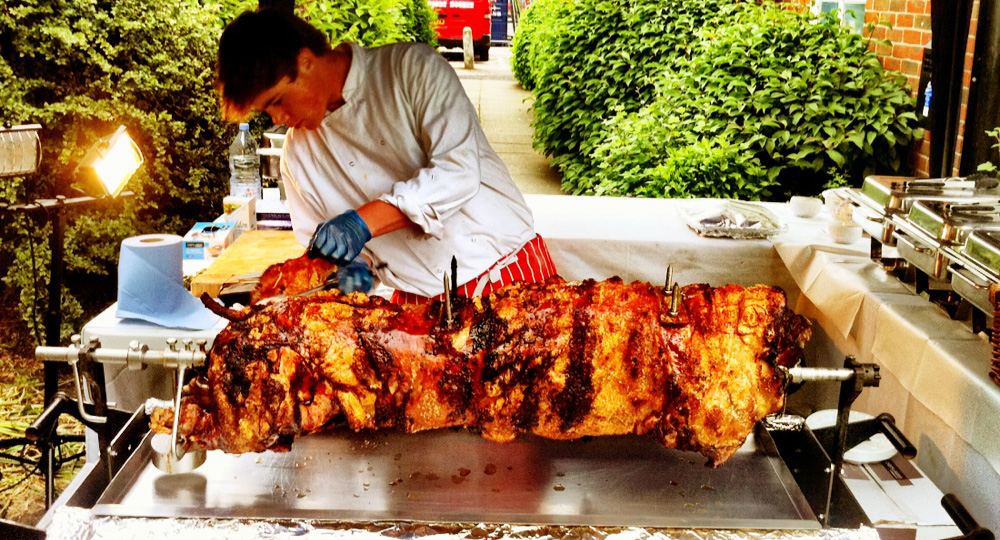 As we have provided catering for office parties, functions and business meetings all over Berkshire including a hog roast party. Our professional team are experts in organising and catering for large groups of people and our success and the popularity of organic food has seen us become a popular catering option at weddings. Although the hog roast is a traditional cooking method steeped in history it has become a talking point and must have at most modern weddings. In a move away from traditional formal weddings our customers are opting for a more hands on, honest and informal option with a hog roast machine. During the summer a hog roast or roasting machine is ideal for an outdoor reception. During winter the roasting machines can be used indoors to provide hot healthy warm food delivered straight from the spit.
A Host Of Fully Qualified Catering Teams
We're confident that our involvement will not only improve the event, but increase turn-out and revenue(If you're a pub or simply charging admissions, etc). The theatre of a good old fashioned spit roast is as good as they come and sure to turn some heads, while getting folks talking. And who better than Spitting Pig? Our Hog Roast Berkshire catering is content with only the greatest of services. That's why we shun the rest and make all our spit roasting machines in-house.
Optimised and crafted by our experts, we use second-to-none machines for the best results. A common question we get about our machines is just what they can cook – is it only hogs? Our spit roasting machines can actually cook any number of meats, and even non-meats — from strip loins of prime beef, whole lambs, chickens(35 in but 2 hours) and an army of jacket potatoes! Thanks to our own custom attachments, we can cook a wide range of things.
[+ show][- hide]