Hello and welcome to the wonderful world of hog roasting in Berkshire. We are a Berkshire hog roast catering company with a difference. If you are looking for good quality catering, excellent service and great value prices then look no further as you have come to the right place. Based in Wokingham in Berkshire we offer our services throughout Berkshire and its surrounding areas. Read on to find out that a hog roast from the Spitting Pig Berkshire team is like no other.
Hog Roast Berkshire

Spitting Pig Berkshire provides an affordable catering alternative for all types of events, creating a menu and package to suit your appetite and budget. With the visual impact of the roasting machines and fresh meat sourced from our own farm we have made Spitting Pig Berkshire the ideal solution for providing affordable, tasty catering solutions. We provide hog roasts for all types of occasion small or large, from birthdays and weddings to business and corporate events.
Passionate About What We do
Catering and Hog roasting are our 2 great passions and we're here to provide you with a service you deserve. We run the business from our family farm Barkham Manor and we'd love to prepare and cook you some great food with our machines and expert chefs and see the smile on you, your friends and guests faces. We'll help you plan an amazing event that demands praise. We've had the good fortune of catering at a variety of events and celebrations over the years and would nothing more than to provide our services for yours. It doesn't matter if you're looking for a humble pig sandwich or a 5 course meal served up by our wonderful chefs and waiting team – if it's theoretically possible we can probably do it!
Our most common and specialised menus are for corporate hospitality, weddings and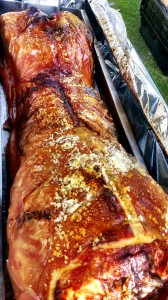 parties. But we pride ourselves on being able to cater for for any and all of our clients' needs, occasion and budget. If the menus aren't 100% to your liking we can make necessary changes to ensure you're getting exactly what you're looking for. It's important for both parties – You and us – that all details are perfected so we can give you the magical event you deserve, but also for us to make and maintain a strong relationship with yourself while building new ones with your guests. When we work for you, you can be sure we'll provide a flawless hog roast catering service that the rest can't even equal, let alone out-do.
Hog roasting is ideal for parties, corporate events or general celebrations; creating tasty food that'll not only whet your appetite, but in the process also giving guests a wonderful visual display. A hog roast on the go is a real contributor to a party and festive atmosphere, guaranteed to get people talking. Prepared and cooked on site for all your guests to see, it's quite a sight to marvel over.