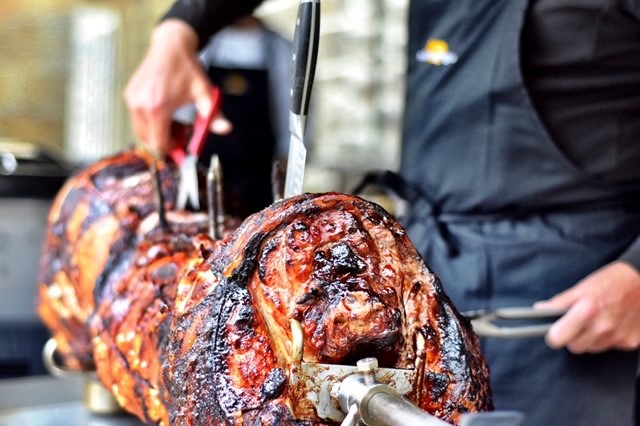 If you think you know good hog roasts then think again, because you've never come across a hog roast Newbury style quite like ours – and the odds are you aren't going to. There's a very simple reason for that, it's because we've been hog roasting for longer than most and through our many fantastic experiences we've learned the secrets of event catering and combined it with the best roasted pigs in town.
You'll love the taste of our remarkable hog roasts, but the entire hog roast experience we offer for event catering is on the whole much more impressive. The sense of drama and suspense when we make a hog roast Newbury is worth the price of admission – idiomatically speaking – alone!
The Best Hog Roasts In Newbury
Far from hiding out in kitchens while hog roasting, we enjoy nothing better than sending our hog roast chefs out and hog roasting in front of everybody, so that you get the full enjoyment and engagement from our ever impressive roasted pigs. We hope that you're good with conversations because when your guests lay their eyes on our show stopping hog roasts you're in for a barrage of comments from excited and giddy event goers, all with one thing on their mind, an urge to comment on just how unbelievably good the food looks!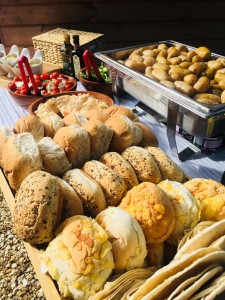 Senses of sight and smell are ignited by hog roast Newbury cooking and this can create quite a scene, as guests flock closer to the hog roast action to get a close up view of the pig being cooked by the chef(s). Hog Roast Event Catering provides hog roasts that are made by eager chefs, chefs who are visibly enthusiastic about hog roasting and always happy to chat to your guests about hog roasting. We can proudly exclaim to having an amazing team that radiate confidence, as all caterers rightly should. Friendly and passionate chefs and waitresses are a must, especially for hog roasters; these qualities come in very handy at events, where so many guests see the pig being roasted and want to learn more from our hog roast chefs.
Wedding catering, corporate catering and party catering are 3 different types of catering that we exceed at, despite the differences between the three. We have a deep understanding of food that comes from an accumulation of knowledge through years of experience, experience that's paid off big time, as we now rely on our experiences every day to constantly and consistently make for customers a Newbury hog roast that makes mouths water. Each event we cater we consider to be part of our marketing campaign, as our success is driven by word of mouth promotion from customers who advertise for us because they enjoyed our catering that much.
Hog roasts can also be had in all their beauty through the machine hire service that Hog Roast Event Catering provides. The more affordable of the two, hog roast machine hire has many positives that hog roast event catering doesn't, and if you're an independent person that loves to get things done yourself then hiring a machine is a great second option.
Leaders In Our Field
We often cater to corporate events towards the end of the year where they reflect on the year that has flown by. We were once again able to deliver this amazing luncheon which we are guaranteed to be part of again in the future according to the customer. With the weather being splendid (strange for that time of year), the day couldn't have possibly got any better? Then the food arrived! Potatoes amazingly roasted. Sausages, racks of ribs and free range spit roasted chicken! With all the staff complimenting our chefs and waiting staff, the positivity in the room couldn't have been higher, all thanks to the dedication of our hog roast Newbury staff.
After catering many events I was looking forward to my next one as it is always interesting to see the guest's views on our hog roasts, a little stop at a nice small venue in Newbury was just the place to keep my excitement brewing. From the start of the event when I brought in the hog roaster, some of the guests showed great enthusiasm in how it was cooked and how well it tasted from previous experiences with the Spitting Pig Company, and gladly they didn't have any changed of us. With the wide selection of potatoes, sausages, racks of ribs and chickens, with sauces to compliment each dish nicely. I can hereby say this was my best catering event yet. With more reviews and good comments, from the tastes, to the whole experience, it just makes the catering of hog roasts so much more fulfilling. Who could think that a hog roast would complement the lovely scenery and views of Newbury.