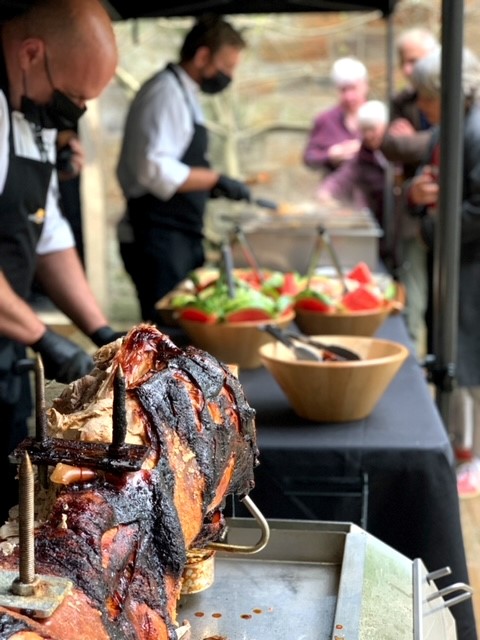 Hog roast Ascot event catering is what you would expect from a professional caterer of our reputation, and much, much more. We put together services that don't have an equivalent, our hog roasts are in a league of their own, and for a party, wedding or corporate event we can provide at great value one of our much envied, flavoursome hog roasts.
We're not a conventional caterer; we've actually made an effort to distance ourselves from others, because we believe our service to be far superior. Our hog roasts are worthy of all the accolades we receive and if you book us today for your event, no matter what event, we'll show you just why we're raved about as the best hog roasters for a hog roast Ascot that there is!
Talent for catering is something that we have plenty of; it's the reason so many people in Ascot know our name and, if you're like many of our other customers, it's the reason you're on our website. It's hard not to hear about our astounding quality of event catering, we've catered so many weddings, parties and corporate events that it seems half the town has tasted our hog roasts. But half the town isn't enough, we don't want to stop there, we want to keep moving forward, providing fantastic hog roasts to fantastic new customers – which is what we're hoping you'll be.
The Best Hog Roasts In Ascot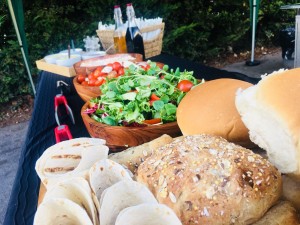 We have many spit roast options available to you, if pig isn't your thing then we're fully equipped, courtesy of our unique hog roast machines, to make you a chicken, turkey, lamb or beef roast. We're also one of the rare breed of hog roasters that can cook all variety of foods just as good as we can cook hog roasts. The chefs at Hog Roast Event Catering are classically trained chefs, as well as being highly skilled hog roasters, and if you sample our menus you'll see the extent of appetizing food we can cook. From salads to puddings and canapés, every menu item is every bit as good as the hog roast itself.
We cater for many events her at hog roast Ascot, with each one being different to the last. We catered for a school prom recently with 130 students and teachers expecting a unique dining experience. Who are we to disappoint. We arrived at the school at around 2pm and set the machine up in the sports hall which had been converted into the event room for the evening. The room was quickly filled with the aromas of a hog that was being roasted to perfection and this didn't go unnoticed by the students as they began their prom. Within an hour of the guests arriving, we were ready to serve and you could see the elation in the teens faces as they got ready to "munch" their hog roast meals. The meat was accompanied by a choice of salads and crispy potato wedges which went down very well. We cleared the tables and left the teens to party the night away.
Leaders In Our Field
The hog roast Ascot talent that we have comes from many years of experience catering across Ascot for all manner of different people, businesses, and at an assortment of unique event occasions. Through one way or another our hog roast chefs and waitresses have catered at all types of events, and our team in the office have put just as much work and time into speaking with and assisting customers, ensuring they get a perfect service, and never anything less than that.
When ringing or emailing Hog Roast Event Catering for your event, whether you know what you want and are ready to make a booking, or whether you're just having a look at your options and would like to get to know more about hog roasting, they'll be able to lend you their knowledge and expertise to give you an introductory experience of hog roast Ascot event catering that's every bit as good as the final service (our Ascot hog roast catering on the day.