Spitting pig Berkshire really is the number one choice for all your catering needs. We pride ourselves on giving all our customers the best catering experience and delicious food every time, arriving on time and being sufficient and well prepared.
Most catering firms prepare and pre-cook the food before going to an event as this is a way for them to save time and get out of the venue as quick as possible therefore compromising on taste and also the service: this is where we are different, no rushing around as we cook on site for all to see from fresh ingredients.
We love catering many events and our passion for this is shone through in our food and also the service in which our customers receive. There is nothing better than hosting a celebration with loved ones, family and friends. Who needs an excuse for a party, We hear you say!!
If you have a special occasion lined up; Anniversary, birthday, Christening then why don't you get in touch with us today via Telephone or fill in the online enquiry form. Our aim is to get a price worked out based on the information you provide, out to you on the same day. There is nothing better than being involved in wonderful catered food, surrounded by people that are enjoying themselves as this is the basis for a great atmosphere.
Our teams are always willing to help you with your ideas and will advise on the different options that are available to you. We all want our parties to be remembered as the best and we are certain that the event will be the talking point throughout the day and in future conversations. Our professional service starts as soon as you make the enquiry. All our staff are friendly and are selected not only for their catering abilities but also for their bubbly outgoing personalities.
We have a number of Menu's to suit with a choice of Meats and even alternatives for Vegetarians or dietary needs. Anything you want, we will work around you. The number of guests is not an issue and we can even help you out with venues if you're not hosting it in your own home. All our Menu's include a Chef that would prepare, cook, carve and serve your guests. They also have an assistant on site to help serve the guests efficiently. We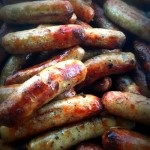 serve Potatoes, crisp salads if you wish these adding on to your Menu's. We also have a BBQ menu which includes Burgers, sausages, kebabs. This is a keen favourite when there is children involved. We also have some fabulous luxurious desserts and can even take care of the soft drinks.
The Slowly cooked meats smell divine and certainly gets the guests appetites stirring aswell as the intriguing looks on your guests face if they have never experienced a Hog Roast. Not only is the food exceptional that we prepare, cook and present but we can also provide the finer details such as tables, linen, crockery, cutlery(disposable and real). If there really is any question you are unsure about we will gladly answer it and if we can't there and then we will come back to you with one. Please feel free to look at our array of Menu's and get in touch. We're waiting for your call!!
Back To Menus