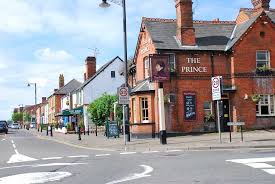 The dreamy market town of Crowthorne is an ideal venue for any hospitality, Crowthorne has the wonders of Chaucer woods and lakes close by and the Golf club just north of the town. With its accessibility in the Home Counties this is a great setting for any outdoor event, or indoors if the English weather blows.
Your corporate event my need catering for hundreds of people or you may just need our help with a small family gathering, whatever it is we can provide a full package, alternatively we can let you do the real hard work and provide our cutting edge machinery for hire. As manufacturers of our own machines we have plenty of experience in giving the expertise you need. So if you fancy becoming the medieval master of your hog roast Crowthorne kitchen we can help.
We bring the primal food instincts of Britain right up to date with our high tech machines producing sizzling food. The sights and smells of a full beast being cooked in front of your eyes is a real foodie treat. Is there anything as good as the marriage of meltingly good pork, crisp salty crackling and sweet apply sauce? So, deep in the heart of Berkshire, we can bring this alternative hog roast Crowthorne catering to your garden party, wedding day or corporate jamboree. Whatever your needs we will provide our expertise and skill to give your celebration a real buzz.
The Best Hog Roasts In Crowthorne
We recently catered for an event at Technology House in Crowthorne for 65 guests. Once again our pig in a bun menu was chosen for the occasion. We arrived to see many excited guests looking forward to having a succulent hog roast sandwich with freshly made accompaniments. The hog was nicely roasting away as we began to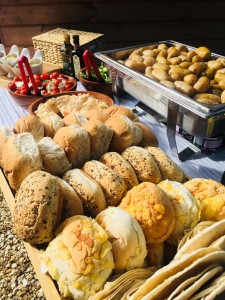 prepare the stuffing and apple sauce. We had already scored and rubbed sea salt into the pig for some golden crispy crackling once the hog had finished roasting. The guests enjoyed succulent pork on a fresh floured roll with crackling, apple sauce and stuffing. A meal fit for a king.
Spitting Pig provides a quality, efficient service fully catered for the occasion. We can provide a spit roast spring lamb, slow roasted turkey or chicken, or even beef, all freshly prepared and cooked slowly and dramatically to add another dimension to your event. Not only does our method of cooking provide a real sense of theatre, but more important are the sensations evoked – a feast not only for your taste buds, but your eyes and nose. We take pride in the hog roast Crowthorne food that we cook and the service we provide – quality, discretion and fresh tasting food. We provide a quality of service that lets the food do all the talking, locally sourced and all freshly prepared and cooked for the day, means that we guarantee our food will be exceptional. So if you require a catering event in Crowthorne with a distinctive menu – then let us do all the hard work and provide a day to remember.