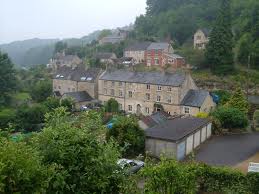 Calling all hungry Ruscombe people out there, if you love the smell of home cooked Pork you're in the right place – All welcome the hog roast caterer. Here at Spitting Pig we have been hog roasting for the people of Ruscombe for the last five years. We offer a service second to none with only the finest local produce used in our hog roast Ruscombe preparation.
Like we said based in the beautiful village of Ruscombe who's residents include William Penn the original founder of Pennsylvania who resided here in the early 1700's, the local Parish Church dates back even further to the early 1200's. Thanks to all the great farmers in the area our hog roast Ruscombe pigs are fresh and organic.
Hog roasting is a great way to enjoy the day whether it be something as simple as a family BBQ or a special event such as a wedding or something fun like a birthday. Hog roasts simplify your day with minimal fuss and effort on your part, due to our specialist equipment we can cater for indoor events easily as well as outside events. You have to agree that the ambiance of your hog roast Ruscombe event would be excellent with a honey roast hog sizzling in the back with that distinctive flame grilled flavour we have all come to love and enjoy. Accompany that with a few beautifully presented and freshly prepared salads and potatoes and served onto a good quality disposable plate and you have the perfect alfresco dining experience.
The Best Hog Roasts In Ruscombe
We cater for events of all sizes and one pig usually feeds up to 120 people it all depends on the size of pig you want. We cater for functions of all sizes so don't be put off thinking there will be too much, our pigs taste so great we guarantee there won't be much left. Not only that but we also offer lamb for the Spit. Smaller pigs or lamb is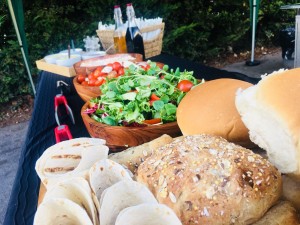 greater for smaller events usually feeding up to 60 people, these are also slow cooked on the spit roast served with beautiful sauces also sourced locally around Ruscombe.
Not only do we offer these deliciously succulent cuts of meat but we also cater for vegetarians with our array of side dishes ranging from salads, jacket potatoes and rice dishes. All our salads are prepared fresh by us and are peanut free. So with all the bases covered what are you waiting for? Hog roast Ruscombe is a local firm and a pioneer in this area, our prices are reasonable and valued to suit the customer so everyone can afford to enjoy a piece or a bite of the action. All our animals are slaughtered humanely and prepared with the finest seasoning again all locally sourced for that fresh produce taste so don't delay and order your honey roast lamb or crackling pig today and get ready to celebrate your next family party in style, hog roast style that is and have an amazing succulent spit roasted pig.
Experienced, Professional Chefs
My first event at Ruscombe was more complex than I thought; with some of the guests having different interests the menu took a few drafts to pick food which was happy for everyone. Also with this being a wedding day, one of the most memorable things for many of the people, the pressure was on to pull of the best catering experience, The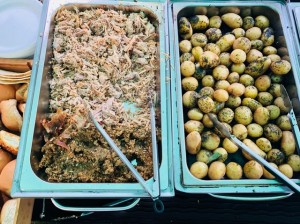 Spitting Pig has ever hosted! After setting up the machinery and ensuring our selection of finest goods are of decent quality and ready to be roasted, the guests sat down and the celebrations of a wedding continued to commence. After much chatter and the rooms attention to fall onto the hog roast, dinner was served. With some guests trying a varied selection of grilled fillet beef and haloumi kebabs, and others tucking into our wild mushroom bouchees with chicken satay skewers, there was definitely a variety in this feast.
The compliments steamed in as guests managed to finish with room for seconds. Once the meal had ended, the bride and groom wanted sandwiches created from the meats as a little token of attendance. It was fair to say there was no meat left on that hog roaster!