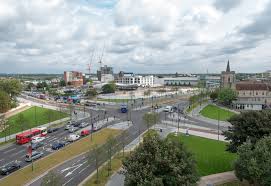 Howdy and welcome to the leader in hog roast event catering in Slough, we have catering solutions for all variations of events and have it as our goal to create fabulous food in all its glory for customers, no matter what their event occasion is. With a dedicated number of chefs to our hog roast Slough company name we're able to create 5-star standard food from the most basic to the most elaborate of menus. With a smile on their faces our chefs will hog roast for hours (sometimes up to 8) to see that you and your friends get to enjoy one of Slough hog roasts best culinary experiences.
The magnum opus of our catering is our hog roasts, we can make hog roasts in 2 distinct ways, but the strong flavours and enjoyableness of the hog roast Slough are the same no matter how it was made. One way we can make hog roasts for an event is by cooking the pig on a tray inside a hog roast machine oven.
The Best Hog Roasts In Slough
We make our machines so that they have glass panels on them, giving you a perfect view of the hog while it cooks, even if it's being oven cooked. The reason we do this is because we appreciate that hog roasting is a great showpiece at an event as well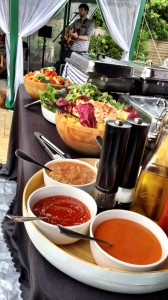 as being tasty when served on a plate, and that's why the second option, the spit roast option, is all the more popular! Spit roasting pigs is the oldest hog roasting method and the image most people think of when you mention a hog roast is a spit roasting hog, it's almost an iconic picture and there's never a shortage of people who've wanted to try a spit roast from childhood, whether it's seeing spit roasts on cartoons or in TV shows and films. The spit roast method for cooking a pig is to put the pig on a skewer on the roof of the machine, the skewer spins as the machine pumps out heat – and this gives a really nice juicy finish – and all your guests will be able to see in clear view the spit roast.
The menus for a hog roast range from corporate menus to wedding menus to party menus, there's a selection in each section to choose from. We have the famous pig sandwich rolls all the way up to the ceremonial sit down style menus with canapes to puddings.
Leaders In Our Field
For example, we recently catered for an event in Slough which saw us catering at a birthday party for up to 80 guests. The menu requested was our traditional, succulent hog roast served with all its delicious accompaniments and soft floured rolls. The guests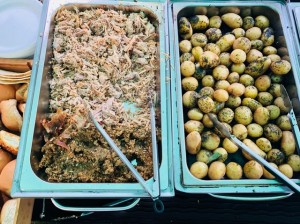 were invited up to the serving station to collect their sandwiches once the hog had roasted to perfection. The food went down a treat and was the focus of many conversations during the night.
Above all else hog roast Slough catering is the number one provider of the tastiest hog roasts in Slough that there is. Everything that we do gives way to our hog roasts and spit roasts. Even with our most elaborate and impressive of informal menus, the many great dishes and foods on display fail to take the attention away from the mouth watering hog roast Slough, lamb, turkey, chicken, beef, and more! For your very own Slough hog roast we have hog roast experts sitting by a phone just waiting to hear from you!