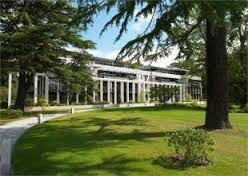 The charming and historic village of Sunningdale is set in glorious English woodland. The Romans built one of the earliest paved roads in Britain though the area close to 2000 years ago and the town is still known for its excellent transport links. The town was originally called Sunninghill Dale but this has been shortened over time to its current form. Although it might sound like the town was named for its favourable weather conditions, many historians believe that the town actually takes its name from a Saxon king called Sunna who ruled the area in the fifth century. As recently as the nineteenth century, the roads around the town were notorious for being frequented by highwayman and bandits, but the modern day residents are known more for their affluence and respectability.
Today, the town owes its prosperity to its excellent transport links and impressive leisure facilities. The busy A30 runs through the town and it also boasts a well-connected railway station. The leisure facilities include Sunningdale Golf Club which has two 18 hole courses and has hosted many prestigious tournaments since it was opened in 1900. Famous former residents include footballer Gary Lineker, musicians John Lennon, Ringo Starr and Billy Ocean and the legendary crime writer Agatha Christie who used Sunningdale Golf Club as a location in one of her stories. Sunningdale is home to just under five thousand people including a number of extremely wealthy individuals who have taken up residence in the numerous stately homes near the town.
The Best Hog Roasts In Sunningdale
If there's one thing wealthy people love doing, then it's throwing lavish parties for their friends, families and business associates and the people of Sunningdale are no exception. A vital aspect of any party is food and drink and the majority of Sunningdale residents are unable or unwilling to take on the task of providing sustenance for their guests on a grand scale. This means that the town and the surrounding area are able to support a wide variety of flourishing catering businesses. Many of the homes in the area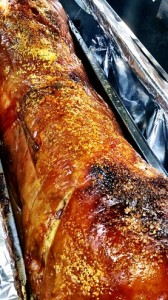 have large gardens which are ideal for entertaining. When planning a birthday, wedding or anniversary party it's common for residents to use their outdoor spaces meaning that it makes sense to find a catering solution that works outside. People who throw parties are often a competitive bunch so finding a caterer who can provide unique, fresh and delicious food is a priority. Among the most popular of these options are hog roast caterers. A good hog roasting company will be able sell the machine, or deliver and collect it if you just want to hire one for the day. They can also supply the gas canisters and any other accessories you might need. In addition, they can often use their contacts to source and supply the best lambs, cows, chickens, turkeys and, of course, pigs for you to roast on your machine at the best possible price.
Whatever the menu may be, hog roast Sunningdale are willing to cater at any event. We recently catered at a party for 70 guests in which our traditional hog roast took centre stage. As we always do, we arrived at the venue early and unloaded the machine out of the van. Once we were set up and ready to begin roasting the hog we scored and rubbed in salt to ensure there was golden crispy crackling to accompany the succulent hog roast when the time came to carve. We freshly prepared the apple sauce and the stuffing on the day and added them to the hog roast sandwiches at the guests request. Everybody loved the hog roast with many coming back for seconds.
Popular Party Catering
Having a cold sandwich buffet with things like sausage rolls and pork pies at your event may make you think this is an easy way to feed your guests, but are they satisfied? Probably not. A hog roast is a great way to feed and at the same time fascinate your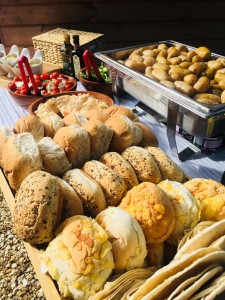 guests the way the meat turns in its very own juices while it is cooking is a treat to the eyes and when cooked most definitely a treat to the mouth. Our meat here at spitting pig is moist yet tender every time and our accompaniments are to die for, they are freshly made on site at your chosen venue to perfection whilst the meat is cooking away for 6 hours straight to make the crackling crispy and juicy.
There is nothing worse than a pig that does not crackle or a pig that burns in the machine, our machines have been specially developed to create the best cooked pig so nothing can really go wrong and we carefully watch our pigs over the 6 hour period to ensure it is golden brown our pigs always crackle because we give them a thin layer of salt a little tip for those of you that are wanting to try our do it yourself option with just the pig, machine and gas. With hog roast Sunningdale catering you will have nothing to worry about we will take care of all your food needs and leave you to put your hosting skills to the test.