Myself, my wife Jacky and my two boys run Barkham Manor Farm. We raise pigs and turkeys and we do hog roast Thatcham catering all over the local area and it's been a great move seeing the produce from field to plate. As hog roast Thatcham caterers, we get to spend plenty of time together as a family, which is not always easy on the farm. It also means that get to spend time out in Thatcham, meeting new people and making many new friends, and more importantly, new customers. Its a great time to have a small farm and breed quality saddleback pigs people these days really appreciate a quality product. That's why we've added hog roast caterers to our curriculum vitae.
A hog roast Thatcham feast is something special from the very start. The spit roast machine is a wonderful piece of equipment that helps cook delicious hog roast. It doesn't do all the work for you but it certainly helps caterers like us deliver the perfect hog roast. It looks great too and almost becomes the main attraction at many of the events we cater for in Thatcham. Of course, a quality choice of meat is equally important which is why we use our very own Saddleback picks from the farm. They make a delicious hog roast and so they should, for they are free of anything artificial and have been lovingly cared for by us. That way, as caterers we know that the people of Thatcham are getting good quality hog roast each and every time.
The Best Hog Roasts In Thatcham
You may think that there's a limited appeal for hog roasts in Thatcham but we have found that to be anything but the case. In fact, Thatcham is perfect for hog roast caterers like the Maslin family. Thatcham is a great place for events and that means lots of hog roast caterer opportunities. Thatcham is a bit of a sporty town with Thatcham FC, the cricket club and the Henwick Worthy Sports Ground. There really is nothing like a good hog roast after a match or at a sportsman's dinner. We've also done some lavish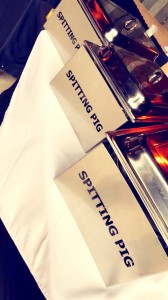 weddings, fantastic christenings, rowdy but fun garden parties and lots of birthdays and fairs. Even the odd funeral wake has enjoyed a hog roast. It certainly beats a sorry looking cold buffet. I know that some people are curious about hog roast for their event and sometimes worry that it might not go down well with everyone, but our experience has shown that hog roast is always a big success at parties and events such as birthdays, weddings and christenings. Children love the taste as much as the adults. And of course, we're expert hog roast Thatcham caterers so we know just what makes a good hog roast. Hog roast really is the perfect party and event catering solution.
We have catered at many birthday parties, from 18ths to 80ths. A recent birthday party saw us provide a more unique menu that our traditional hog roast sandwiches. The customer requested that we roasted hog, chicken and turkey which gave the guests a choice of three meats. All three were a huge hit with the guests with many of them having one of each throughout the night. As the party drew to a close, we carved the remaining meats and laid them all out on the serving table for the guests to pick at as we cleared up all of our rubbish and left the party.
Every event we now cater for always sees us meet new people who want to know more. And guess what? We usually see them again in Thatcham very soon as hosts at their own hog roast Thatcham events!