Whitley is a small, unassuming suburb. The history of this town is not very well known nor written about; however, it is the venue for an annual half-marathon which is well-attended by both participants and local supporters.
As well, Whitley holds an annual arts festival in the autumn. There is a main section of this festival held in the Whitley Community Centre which includes all manner of fun things to do and see. There's a workshop on cooking, postcard making, photography, you name it. It is fun for the whole family and the organisers called on me to add to the events on offer by catering a hog roasting.
Not knowing how many people I would be catering for, I tried, as I usually do, to over-estimate the amount of food I would need. It rarely goes to waste, and I think it makes more sense to make too much than not enough.
The Best Hog Roasts In Whitley
Therefore, for Hog Roast Whitley, I opted to purchase a locally-sourced Berkshire hog for the roast, weighing in at approximately 60lbs. I also chose to bring along my Titan hog roasting machine, manufactured by The Spitting Pig Company. The Titan is, I would say, the star in The Spitting Pig's firmament of machines. It is made of tough, durable stainless steel, which also adds to the machine's attractive looks and keeps it corrosion free. It features tyres which are air-filled and provide a great steering ability allowing for positioning on even the most challenging of terrain.
It has double doors at the upper part of the machine, one of which is see-through and made of tough, heat-proof glass. However, the Titan's versatility is my favourite feature. It can roast the hog in the oven or on the spit, and it can act as a combination roaster, too, utilizing both oven and spit at the same time. It can handle a hog up to 80lbs for roasting or spit roast up to 30 chickens at a time! It's worth mentioning here that this machine comes with a full, one-year guarantee and a first year's free and certified gas safety check.
In order to get Hog Roast Whitley underway, I arrived approximately six hours prior to the start of the event so that by the time people were attending in large numbers, the meat would be ready to serve. I set up a marquee to save me and the food from any unexpected weather-related surprises. I also decided to roast the hog inside the oven, which made handling it easy. I simply score it, and rub it with a homemade olive oil-based marinade which includes a special combination of herbs, spices and salt. When the roast is cooked to perfection, I simply raise the tray and can carve it easily.
Leaders In Our Field
I was keeping the menu fairly simple for this event. Normally, I call upon the help of The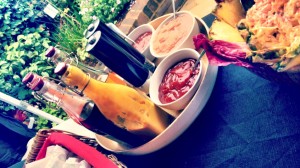 Spitting Pig Company, who offer a variety of hog roast hire packages. This time, however, because I wasn't sure of the turn-out, and because it was an informal, outdoor event, I decided to stick with a large hog to roast, baskets of warm, freshly-baked rolls, pans of special stuffing to add to the sandwiches, should people wish, and a selection of condiments including homemade applesauce.
After everything from bread to pickles was set up and ready to be served, I only had the meat to consider. I took a bit of time to wander about the festival to see what I could see and to engage other merchants in chat, ensuring that they were well-aware of my location at the event and what I was serving.
Once the meat began to really get cooking, the smell became the attractant for many interested people. Mainly people are curious about the process and the machine, but I suspect many are just hoping to be first in line for a taste of fine victuals! This part of my day is important to me as it enables me to 'network' and talk to like-minded folk about my favourite subject: hog roasting. And I also inform folk about what The Spitting Pig Company can offer in terms of their flexible and affordable hog roast hire packages. Working in partnership, as I do, with The Spitting Pig, has turned out to be an invaluable part of my success. And the day was definitely a success. I would recommend a hog roast to anyone looking to have a good time.