We had a wonderful time catering for a wedding anniversary party this afternoon, which celebrated 30 years of marriage between Emily and Jim. We have known the couple for a few years as they have used our services in the past, so they knew who to ask to cater for this event. Having hired us for birthday parties and their daughter's wedding reception with our succulent hog roast Greenham, they both knew that the only food they should have at their wedding anniversary do was the same, as they had so many compliments in the past. This time, we would serve pigs in buns, which is what we call our hog roast rolls, as well as some fresh salads.
We set off in the morning to Emily and Jim's lovely home, together with a gazebo to shade us from the hot summer sun, our trusty hog roast machine and a smallish pig to roast for a few short hours. There were around 20 guests expected and even a small pig would provide seconds if needed. Plus if there are any leftovers, we can strip the hog clean and leave you with the rest of the meat to chill or freeze for later. Well, waste not, want not!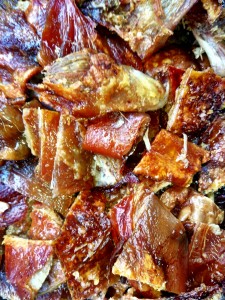 I prepared the pig by scoring it, adding water and then smothering it all over in lots of salt. The latter step gives us that fantastic, crispy crackling, and Jim couldn't wait for this today, his favourite part of a hog roast Greenham. Once all prepped, I then had to watch over the hog as it roasted away, ensuring it cooked properly and thoroughly. We use gas in our hog roast machines, so you need to keep an eye on the flame. We once rented out a machine to a chap who forgot to check on his pig during cooking unfortunately and needless to say it was barely charred at all when he thought it would be nearly ready!
Once the guests arrived, it was time for my colleague to prepare the salad dishes, sauces, bread rolls and stuffing, while I sliced off all the lovely crackling (I saw Jim pinch some) and then start to carve pieces of the succulent pork.