We spent a lovely summer's day today catering for Lee and Rachel's engagement party with a hog roast in Grazeley. The couple met at work 3 years ago and Lee decided to pop the question while on holiday in Cape Town, which is where Rachel grew up. Having enjoyed many a hog roast and spit roast in South Africa over the years, Rachel thought it would be ideal to have one for their engagement celebration at a posh local hotel – and we had to agree, really!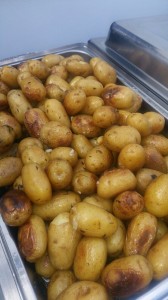 The happy couple decided on our simple but mouthwatering hog roast sandwiches menu, which is a hog roast cooked slowly at your venue, then sliced and put into buns together with stuffing and sauces. They also asked for a couple of garden-fresh salads and a serving of potatoes; we recommend our warmed new potatoes in a lovely herb butter, which we cook in a tray underneath the meat.
This morning I rose from my bed super-early while the rest of the country was probably still fast asleep, as I needed to get to the venue in plenty of time to roast the hog for several hours. There were around 50 guests invited but the couple had still ordered a large 50kg pig which could feed a lot more people; however, a hog roast in Grazeley is visually striking and Rachel wanted it to be the centre of attention at their party (and I think she also knew she could save any leftovers for later!)
My team and I set up the marquee in the hotel grounds, followed by the serving station and then the hog roast machine. It may be interesting for you to know that the machine we used was one that we actually designed ourselves, that we made in our UK factory! We make several machines that you can hire or buy from us.
I prepared the meat by scoring it and covering it with warm water and then rubbing salt all over. I had to roast it for a few hours so it would be ready for a mid-afternoon service and by the time it was cooked beautifully, all the well-dressed guests had arrived and Lee and Rachel were being toasted. By the looks on everyone's faces as they tucked into our delicious food, or hog roast in Grazeley was a complete success.