The freedom to eat as many sweet treats as you like with no judgement, dressing up in ghoulish costumes and picking pumpkins to carve for your doorstep – what's not to love about Halloween? If you ask anyone here at Hog Roast Shinfield, October is one of the best months there is, and all of our team relishes the opportunity to get into the spooky spirit in the lead up to Samhain! This year was no different. In fact, if anything, it was bigger and better than anything we've seen before!
All through October, our team had a packed schedule of spooktacular events to attend, ranging from obligatory days out at the local pumpkin patch to horrifying fright nights in the city centre's hottest clubs. So, to say we've had a blast would be a massive understatement.
One of the last Halloween-related celebrations we handled was an all-day drive-in theatre, which had been organised by event planners Leonie and Jay. The event, which was held at an empty lot that overlooked rows upon rows of evergreen trees (Lovers Lane eat your heart out), had attracted the interest of over 100 movie buffs, who couldn't wait to watch their favourite horror flicks on the big screen.
From John Carpenter's legendary Halloween films to Carrie, The Exorcist and more, there was something to suit every horror fan's appetite. And, speaking of appetite, Hog Roast Shinfield's job was to keep everyone well fed with some frighteningly tasty menu items that the organisers had chosen from our Southern Slow Roast Menu.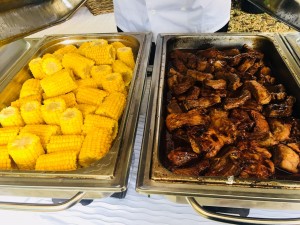 It took catering manager, Roy, and the rest of the Hog Roast Shinfield team several hours to prepare the spread, which comprised of slow-roasted BBQ pork butt, Texan 24 hour beef brisket, fall off the bone Louisiana sticky pork ribs, and BBQ pulled jackfruit rolls with optional hot and smoky glazes, Memphis style crunchy coleslaw, mac and cheese, Greek salad and corn cobbettes. But the time taken to create such a gorgeous bounty was worth it in the end because when the ticket holders arrived, they were instantly drawn to the mouth-watering fragrances that drifted from Hog Roast Shinfield's gazebo.
From the first showing at noon until the final closing credits at 11:30 pm, Hog Roast Shinfield kept everyone satisfied with our good grub, tea, coffee and hot chocolate, which left everyone in high spirits.