As a specialist caterer bring customers the best hog roast catering service for their events, Hog Roast Streatley have been at it for well over 20 years now. Going back even further our founders were also in this industry well before that 20-year date before they decided that they wanted to bring something new to event catering table with their own specialising hog roasting catering business. They started out as cater workers, building up experience, knowledge, and reputation with the industry before spinning out into their own independent business.
Now that independent boasts Hog Roast Streatley franchises the length and breadth of the country, warehouses stocked with the very best catering and roasting equipment there is (all designed and built by ourselves too), hundreds of Hog Roast Streatley staff with the utmost in skill, experience, and passion for catering, thousands of repeat clients ranging from private local customers to some of the largest leading corporate brands in the world, as well as plenty of local independents like ourselves. Through 20 years, Hog Roast Streatley has seen it all, and we have pushed always to better ourselves and build and build.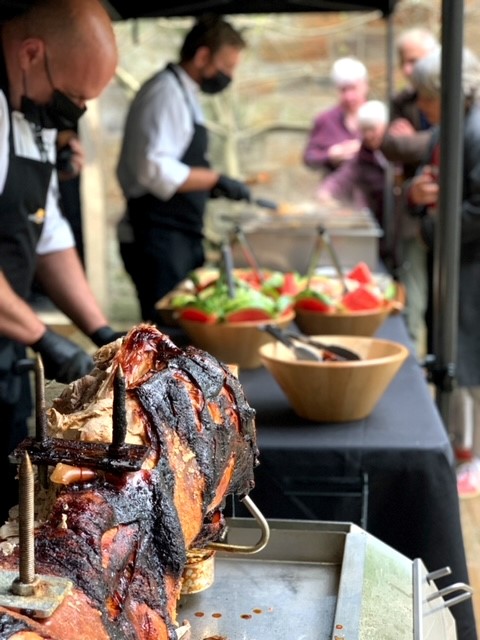 Just about every kind of event you can think of we have been a part of. All manner of dish requests, specialist services, queries, and quotes – we've seen and heard it all. Even through one of the most difficult economic periods the world has seen with the Covid-19 pandemic, Hog Roast Streatley did our best to persist and push on right through so much so that we have been fortunate enough to still be here now serving customers again day in and day out. If such a pandemic had happened earlier in our history we may have not been equipped to handle the pressure as we did, but plenty of experience and drive throughout every one of our teams allowed us to persevere well.
We're here still for all of your events up and down the country. We are here still to bring you the very best in hog roast and event catered dining. We are still here to serve you – it just takes a single call to your Hog Roast Streatley team today to get started.