Hog Roast Lewes had the absolute pleasure of catering for a medical logistical company helping to roll out the covid vaccines around the UK. It was a cloudy, but relatively warm day so Hog Roast Lewes set up outside on the car park, preparing the food for a midday serve.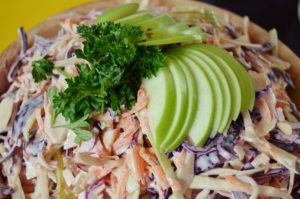 Hog Roast Lewes would be feeding 155 people their American-styled menu which always goes down well with guests. The staff were going to enjoy Texan BBQ beef, Cajun-spiced chicken and BBQ pork ribs. The beef was marinated for 6 hours before being slowly roasted for 24 hours on low heat creating an incredibly flavour and ensuring tender meat that would just fall into pieces. The chicken was marinated in Cajun spice with a sprinkling of sea salt and black pepper for 4 hours before also being cooked on low heat over a long period of time. The chicken was therefore really juicy and amazingly tasty. The BBQ pork ribs were also marinated before being flashed on the BBQ before the midday serve. Three mouth-watering meats were devoured by the guests with high compliments to just how delicious they were.
To accompany the flavoursome meats, the staff enjoyed southern-inspired Mac and cheese, buttered corn cobettes, Greek salad and creamy coleslaw. Some staff members made the ultimate American-inspired burger creating a tower of BBQ beef, Mac and cheese and coleslaw filled in a cheesy roll – yummy!
Hog Roast Lewes has been liaising with Daniel who had specially requested halloumi burgers for their vegetarian staff and vegetable burgers for their vegan staff members. Both of these options were served in a soft roll and complemented with sweet chilli sauce. Knowing that there were vegan guests, Hog Roast Lewes catering manager and team ensured that the butter used on the corn and the mayonnaise on the coleslaw were vegan-friendly.
After everyone had been served Daniel came out to show his gratitude saying how Hog Roast Lewes had done an amazing job, claiming that everyone had thoroughly enjoyed the food and now were all sitting in the canteen in food comas – can't get a better compliment than that!