With all sorts of events and celebrations for us to look forward to over the coming weeks, Hog Roast Eversley is glad to be back doing what we love most – cooking up a storm and impressing patrons with our unmatched hog roasting skills!
And now, with all of the school's having their Easter break, we've been even more active recently as clients from all over the city have been looking to us to handle the catering for their outdoor parties. From Easter-themed lunches and chocolate egg hunts to birthday bashes and more, our team have been on the go non-stop lately – but we wouldn't change it for the world.
At Hog Roast Eversley we love to be kept busy, and among our latest influx of bookings came a request from Olivia, who asked that we serve one of our famous spreads at her baby daughter's Christening. With social distancing rules preventing the occasion from being anything other than a low-key affair, Olivia had approached us looking for a more laid-back spread; and at the advice of our catering manager, Roy, she decided on our newly-introduced, Alfresco Menu.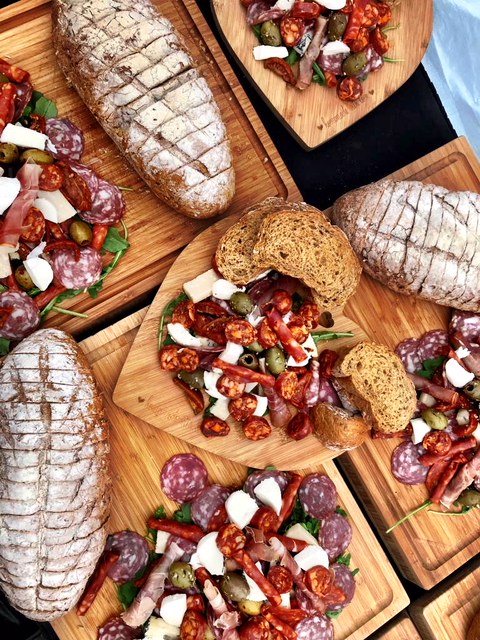 Featuring a beautifully arranged antipasti platter of cold cut meats, fragrant Italian cheeses, olives, sundried tomatoes and herb-crusted artisan bread with balsamic vinegar and olive oil dressings; followed by a classically roasted pig with all of the traditional trimmings and sides, this innovative new menu option is guaranteed to hook guests from the first bite until their last. Keeping things inclusive for everyone, the menu also includes a meat-free dish from our choice of grilled vegetable and halloumi skewers with tzatziki dip and flatbreads or BBQ pulled slow-simmered jackfruit rolls, dressed in hickory sauce and our homemade 'slaw.
The client immediately loved the sound of this comprehensive spread, which suits the needs of all of her guests, and she quickly agreed with Roy that it would be perfect for the special occasion! What's more, the meal also concludes with a delicious dessert option, which like the rest of the courses is served to seated guests by Hog Roast Eversley's very own team of experienced waiting staff.