Ahead of this year's St. George's Day celebrations, Hog Roast Mayfield was contacted by one of our long-standing customers, Alan, who had made plans to host a small get-together with some of his closest family members in the back garden of his home in Berkshire.
As we all know, this very special day calls for a sumptuous feast chased down by a few chilled beers, and so speaking to our catering manager, Roy, weeks prior to the gathering, Alan had asked for recommendations on which menu would best suit his cosy party.
Knowing Alan's preferences already, Roy was quick to recommend our newest dining solution, the Alfresco Menu, which boasts a delicious antipasti selection of deli meats, cheeses and freshly baked artisan loaves, followed by a spit-roasted hog and salad sides. Only, on this occasion, Hog Roast Mayfield swapped one of our adult-sized pigs for a juicy suckling roast, which packs a more intense flavour and is a better fit for small gatherings, such as the one Alan was hosting.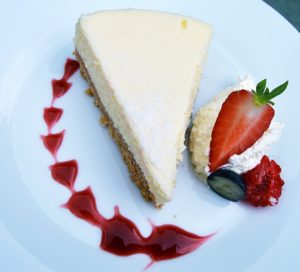 Eager to try out our newest menu for himself, Alan decided to go ahead with his booking for this spread. But before finalising everything, Roy also let him know about our new, herb-infused dauphinoise potatoes, which at the time, hadn't yet been introduced to the website! For Alan, this dish, paired with our homemade gourmet coleslaw, a selection of seasonal leaves and heritage tomato and buffalo mozzarella salad, was the perfect finishing touch to his main course. And because dessert is equally important, we finished off the indulgent feast with a rich dark chocolate torte and a creamy cheesecake for afters.
When St. George's Day arrived, Roy and the rest of the Hog Roast Mayfield catering team spent all morning working on the fragrant spread, which resulted in a perfectly cooked hog roast with all the bells and whistles. After taking their time to carefully pack all of the food into boxes, Roy zoomed off to the client's home, where Alan was waiting with a flag in hand and a huge grin on his face!
Once again, we've heard back from Alan about how amazing the food was and how excited he is to plan his next Hog Roast Mayfield event!