Recently, the Hog Roast Ascot team were hired by a fantastic regular client, Jaguar Land Rover. The company is classed as a corporate client and this means that the team offer a slightly less casual service and tend to keep the atmosphere more professional to suit the event. This client frequently hires the Hog Roast team for their many events and the team often caters for the company's staff.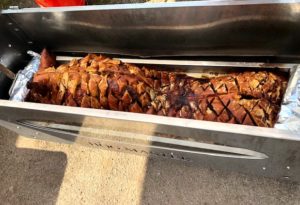 Their most recent event was hosted by Jaguar Land Rover's management to thank all of their branches' staff for their hard work over the past few months. The event was organised by Louise from Jaguar Land Rover and she was really pleased with the service that the team provided. She thought that the event turned out to be a huge success and she was really pleased with the outcome. Louise was really happy with the fact that all of Jaguar Land Rover staff really enjoyed the Hog Roast Ascot team's buffet.
The cooking of the food was led by Hog Roast Ascot team's chefs James and Jackie who did a fantastic job of leading the team through the service. In addition, they ensured that they were really professional and laid out a great service. The Hog Roast Ascot team specialise in cooking and preparing their food on site so that their buffets taste fantastically fresh. In addition, the team also pride themselves in using fresh ingredients and quality meats to uphold their great high standards. Furthermore, the Hog Roast Ascot team have excellent flexibility in their buffets and also provide vegetarian options to ensure that their food is accessible to the majority. For example, the team can easily exchange their classic, casual bread rolls for a gluten free alternative or exchanging their traditional hog meat for others such as chicken. Moreover, if clients do not have the space available for the Hog Roast Ascot team to cook and serve their buffets, they can easily deliver their clients' food to their door at their request. The fantastic flexibility of the team makes them a great asset to any company's or client's event.