It's always the perfect day for a wedding in our eyes at Hog Roast Caversham! Our fully flexible cooking style means we can cater a wedding breakfast or reception for any number of guests. Don't worry about dietary requirements! Our professional Hog Roast Caversham chef can cater to all needs and we are always able to find alternatives- just ask!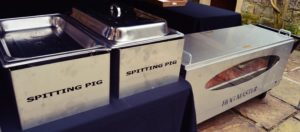 This week was the wedding of Fiona and Sean who were tying the knot after ten years of being together. Fiona had been on the ball and booked Hog Roast Caversham in on the day of her engagement as she knew we were the perfect caterers for her big day.
When the day of the wedding rolled around we had a phone call from Fiona bright and early anxiously asking if we were still able to cater. There had been an awful storm the night before which had sadly carried on into the day and so Fiona was concerned that, as we had been scheduled to cater outdoors, we would have to cancel. However, for Hog Roast Caversham cancelling an event is the absolute last thing on our minds! In fact, whenever we are due to cater outdoors we always make provisions for if the good old British weather decides to let us down. We always make sure we bring along our trusty gazebo which can be put up at any venue to shelter our precious Hog Roast Caversham food from the elements and helps ensure you still get the feast you deserve on your big day.
Fiona was thrilled to hear this and we reassured her again that she didn't have to stress, we would take care of everything all she had to do was enjoy herself!
We arrived at the venue, and predictably the rain hadn't stopped one bit and so we quickly set up under our gazebo and got the Hog Roast Caversham roasting away ready for the reception…