This weekend we were catering at a lovely event, Isabel and Toms's house warming party! Having just stepped onto the property ladder a couple of months ago and finally moving out of their parents' homes, both Isabel and Tom wanted to throw a housewarming party to show off their new home to everyone now they had done it all up and got it exactly how they wanted.
We arrived at the couple's home mid-morning as we were planning a Hog Roast Ascot afternoon/late lunch. We set up our machine on the newly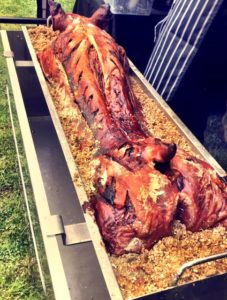 decked lawn and quickly got to work preparing the days food. The day's menu would be our classic Hog Roast Ascot hog roast rolls. These rolls consist of our slow roasted hog carved and placed onto freshly baked bread rolls. Before cooking the meat our Hog Roast Ascot chef carefully scores the skin and applies lots of sea salt and water before massaging it all in. This is in an effort to create that mouth-watering crackling that our guests love, and which goes perfectly on top of a hog roast roll. To finish up we have our homemade tarte yet sweet applesauce and lots of delicious sage and onion stuffing. As Isabel's sister has a gluten allergy, we also brought along some gluten-free bread rolls so that she could enjoy our Hog Roast Ascot just as much as the other guests.
When the guests arrived, everyone was stunned at how well Isabel and Tom had done up the property. Apparently, when they bought the house a few months back it was in need of a lot of TLC and looking at old photographs they had taken it really was quite unrecognisable. The couple's family and friends mingled and congratulated Isabel and Tom on their efforts as our Hog Roast Ascot team handed out our freshly made hog roast rolls…