You may think we only rent out our own range of hog roast machines to professional chefs who want to cook a hog or spit roast for their customers, but we also rent out to domestic cooks who want to DIY too. Even if you've never tried cooking this way before, Hog Roast Winkfield can easily introduce you to it, as we walk you through the process and leave you with detailed instructions once you're comfortable. It's actually really simple to use our equipment but we can also let you know about how to prepare different meats, what size animals and birds you can cook with our different machines and much more if needed. We can even provide the meat itself if you're not sure where to source it. 
When our new customer Kate booked a hog roast machine rental with us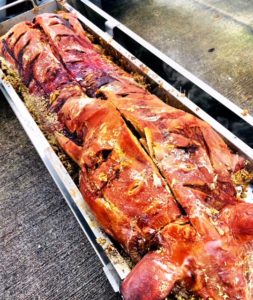 recently, she wanted to surprise her husband on his birthday by cooking his favourite food at home in their back garden – pigs in buns. We told Kate how Hog Roast Winkfield makes pigs in buns when catering for our customers, to give her an idea of what to do for her husband's birthday party. Firstly, you prepare the meat by scoring it in diagonal shapes, all over, and then cover it in water and massage in plenty of salt. The water ensures the meat stays moist while cooking and doesn't dry out and the salt turns the skin into crispy, crunchy crackling. Once done, we set the temperature and turn the machine on and then keep a watchful eye on the meat. In Kate's case, a small pig to feed a few guests would take around 3 hours. The meat needs a short rest after cooking but half an hour later and we carve off the crackling and slice into the pork and then cram bits of both in soft, floury bread rolls and wraps and add a dollop each of our stuffing and apple sauce. 
After hearing all this, Kate couldn't wait to try it herself, and once we dropped off the machine at her home and walked her through everything, she was keen to get started. 
When Hog Roast Winkfield collected the machine from Kate the next day, she was more than satisfied with our equipment and was thankful for our instruction too, as her husband's hog roast was a great success.