If you're thinking of hosting your own hog or spit roast, you need to hire equipment from a company you can trust and who cares about the safety and quality aspects of it. When it comes to Hog Roast Binfield, we're clearly the wise choice to make, as we go the extra mile to ensure we only rent out high-quality hog roast machines that are safe to use, but we are also passionate about teaching others, so when you hire from us, you're hiring experienced professionals who show you how to cook the best roast and always leave you with instructions to refer back to as well, just in case.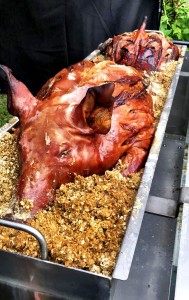 A DIY hog roast may seem a little scary at first, if you've never done one before, but fear not as Hog Roast Binfield will not only deliver the machine to you and pick it up when you're done, which is already part and parcel of our great service, but we will walk you through the ins and outs of it and we can even supply the meat if you're not sure where to. From start to finish, we provide top-class service and our customer testimonials attest to that fact.
When Roy called Hog Roast Binfield recently, he wanted to hire one of our hog roast machines for a party at his home, where he would be cooking a small hog for a small group of friends. It wouldn't be his first time cooking a hog roast, but it would be his first time dealing with us, and as equipment can differ between brands, we would be showing him how to work ours when dropping it off.
On the day of the rental, Roy was astonished to see how simple one of our hog roast machines is to use, but we make them that way, as we designed them ourselves and we manufacture them from scratch in our factory in the northwest. He'd sourced his own hog from his local butcher and didn't need any cooking tips, so we then left him to his own devices.
When we collected the machine, Roy was so impressed with it that he's thinking of buying one of our range, just like many other domestic chefs do, as well as those who use them in their own businesses.