Hog Roast Ludgershall's latest event was a beautiful October wedding. Clients Mary and Neil had an intimate but thoroughly gorgeous wedding party planned for their 20 guests. The wedding theme was focused on rustic imagery and the beautiful colours of autumn, there were lots of reds and oranges splashed all over the setting.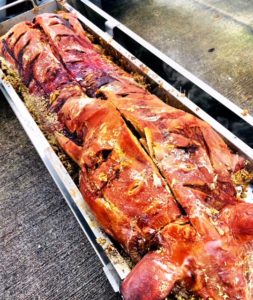 Mary and Neil worked closely with the Hog Roast Ludgershall team to put together a suitably tasty and rustic menu for their wedding buffet. As part of the catering package that the clients and the team put together not only would the Chef and food be provided by the team so too would the crockery be given by the team. Mary and Neil opted to use Hog Roast Ludgershall's wooden bamboo crockery and cutlery.
Sticking with their rustic theme for their wedding Mary and Neil selected to have a flavoursome meal, they chose dishes from the Southern Slow Roast menu. These were tasty treats that were packed full of flavour and had hearty portions of all American classics.
Chef Roy from the team was tasked with bringing to life the delicious buffet for the wedding reception. He arrived at the barn venue by midday so that all the dishes were ready for the 6pm serving time. Roy created every dish fresh by hand.
The main attraction at the buffet table was the three meats: BBQ Pork Butt, Creole pulled quarter of spiced lamb and Fall Off the bone Louisiana sticky pork ribs. There was of course also a tasty vegetarian alternative included too. Also on offer at the buffet was Memphis Style Crunchy Coleslaw, fresh corn cobettes dripping with warm melted butter and all American classic Mac and cheese. Finishing off the buffet was Skin on Southern Style baked potatoes and a large basket of soft rolls and wraps.
The buffet was a feast fit for Kings, Clients Mary and Neil were thrilled with it. They and their guests tucked ravenously into the meal at 6pm on the dot.
Chef Roy quietly tidied away after the food had been enjoyed. He packed away the catering equipment and gathered up all the waste to dispose of it responsibly, leaving the clients able to party and celebrate their special day.