While most brides and grooms dream of having a gorgeous summer wedding surrounded by blooming flowers and sunshine, there's a lot to be said about the benefits of getting married in the winter months, too. For one, it's usually much easier for guests to take the time off work; not to mention it's cheaper, less stressful to plan and with no humidity to worry about either, you won't have to fret about having spoiled hair and makeup in the wedding photos! Plus, there's always the possibility of snowfall, and what could be more magical than that?
One couple who was completely set on the idea of having a winter wedding was Ella and Stuart, who got engaged in the spring. After spending several months planning and preparing for their big day, the pair finally tied the knot last weekend at a grand Tudor Gothic mansion surrounded by idyllic views of the stunning Berkshire countryside.
With much of the celebrations taking place on the grounds, the couple had called in Hog Roast Odiham's fab catering team to provide a hot and steamy, soul-warming meal to their 160 guests. The feast, which centred around our traditional slow-roasted pig with all the trimmings, had taken Roy (our catering manager) and the rest of the crew all morning to prepare, but the results were well worth the wait!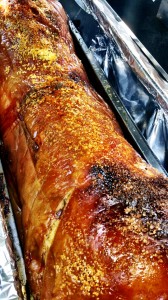 By the time the wedding party had finished posing for pictures and had downed their first of many glasses of champagne, the food was ready to be served. As the bride and groom, Ella and Stuart were the first to be served Hog Roast Odiham's lip-smacking hog roast rolls, which overflowed with juicy carvings of pork, crackling, stuffing and applesauce. The small number of vegetarian and vegan guests, on the other hand, were treated to a delicious plateful of BBQ pulled jackfruit with vegan-friendly coleslaw.
After spending much of the year looking forward to the occasion, it was a huge relief for both Ella and Stuart when everything went off without a hitch. The day was everything the pair had hoped for and the secluded spot set the perfect scene for their special day. They were particularly pleased with the Hog Roast Odiham lunch, which put a grin on everybody's face and left them in great spirits!