Last weekend, Hog Roast Pangbourne's catering team had the privilege of serving one of our slow-roasted hogs at a christening after-party in the stunning Berkshire countryside. The special occasion had been planned and organised by new parents, Joshua and Lily, who welcomed their twin sons, Jacob and Robbie, into their family earlier on in the year.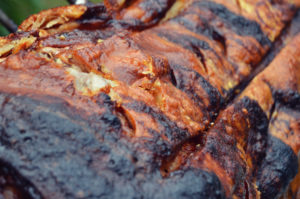 Eager to commemorate the all-important day in a way that would be remembered fondly by the whole family for years to come, the pair had asked us to serve up one of our sumptuous spit-roasted pigs to their 100+ guests. And our catering manager, Roy, was more than happy to accommodate their needs.
With an extensive selection of customisable menu plans to choose from, it didn't take long before Joshua and Lily were able to find a feast that fitted their celebration perfectly, and, on this occasion, this just so happened to be our ever-popular Hog Roast Dining Menu.
Offering guests the choice of two fabulous main courses, as well as a meat-free substitute, freshly made side salads and a tasty potato dish, this menu truly does offer something for everyone. And with Roy in charge of cooking it, Joshua and Lily certainly had nothing to worry about!
With lots of people to feed, Roy also knew that preparing the meal for the after-party would surely take all morning, and so, he, along with the rest of the Hog Roast Pangbourne team, arrived at the reception location well in advance of the guests' to ensure the meal would be ready for them.
Soon the scents of salted pork and succulent chicken fragranced the air.  And as if drawn by the white smoke that billowed from the meat and grilled veggie skewers, Joshua and Lily arrived with their sons and their guests in tow. After taking in the breath taking scenes of the rolling hillsides and thick forests that provided an excellent backdrop for the party, the hungry guests quickly queued up with their plates in hand, ready to stuff their faces.
The food itself was faultless, and everyone (even the kids and Lily's fussy parents whom she'd previously warned us about), was besotted with the buffet that Hog Roast Pangbourne had created!