The Christmas period is a time for celebrating with everyone around you, including colleagues at work. Corporate Christmas parties come in many forms, depending on size and formality, but the only thing that matters is that everyone gets to celebrate together with some great food! Hog Roast Twyford catered for a wonderful corporate event in Berkshire, and this is the menu that we provided…
Tony runs an office in Berkshire and wanted to do something special for his staff to make the most of the festive period. He manages 75 employees so the menu needed to be versatile and cost-effective, yet still incredibly tasty and traditional. After discussing his catering needs with our catering manager Roy, they decided that our Festive Menu was an ideal choice since it ticked all of Tony's boxes!
On the day of the corporate Christmas meal, we set up our Hog Roast Twyford catering station in advance to give ourselves plenty of time to cook and prepare the dishes. The star of the menu was our delicious, whole-roasted turkeys, roasted over flames to ensure that they were moist and tasty. We accompanied the turkeys with fresh cranberry sauce, and homemade sage and onion stuffing. For vegetarian guests, we provided grilled halloumi and vegetable skewers.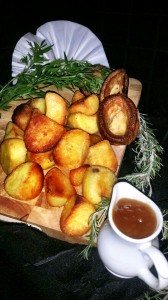 Alongside the main dishes, we also provided a variety of traditional Christmas trimmings, including cauliflower cheese, a seasonal vegetable medley, pigs in blankets, roast potatoes, and homemade gravy. This created a delicious balanced meal for the guests to enjoy and provided a variety of options to ensure that there was something for everyone.
To finish the catering, we served warmed mince pies with brandy cream, which was a delicious and festive way to finish the evening!
Our Christmas diary fills up quickly, so there is no better time than to get yourself booked in! We have a menu and formality that is perfect for any event, so get in touch with Hog Roast Twyford today to find out what we can do for you. Simply let us know your party size, date, and location and we can do the rest.