Food is such an important part of everyday life but for a very special occasion, it's even more important, as it brings people together, nourishes us and makes every party or event even more enjoyable. When you hire Hog Roast Reading to do your catering, you get this and so much more, as we make delicious dishes from scratch, using fresh, locally-sourced ingredients, and that includes the high-quality meat that we use.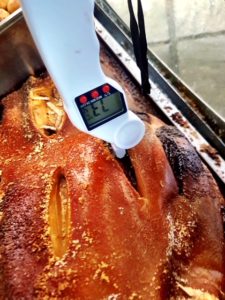 We've spent years perfecting our hog roasts but we've also spent a long time perfecting our other food too, from spit-roasted meats like turkey, chicken, beef or lamb, marinated or barbecued meats, as well as a whole host of additional options like hot and cold sides, wholesome starters, handmade desserts and even gorgeous canapés that we can serve to welcome your guests. Plus if you have any guests with dietary needs, with advance notice we can always ensure they are well-fed on the day too, with a freshly-made suitable dish.
When Phyllis booked Hog Roast Reading to cater her 75th birthday party, she knew she wanted us to make our famous pigs in buns, as she has enjoyed them on multiple occasions in the past, but having recently been told she was intolerant to gluten, she was worried she could no longer enjoy them. So when we told her that she could still enjoy those same delectable pigs in buns, just with suitable bread rolls for herself, she was amazed and very thankful.
It came around to the day of Phyllis' birthday party on Sunday and our Hog Roast Reading chef and catering assistants headed to her home to set up our equipment in the back garden. We were cooking for twenty-six guests, who would all be arriving several hours later, but we had to get there early to prepare the meat fresh on-site and then slowly cook it at a low temperature for hours on end.
By 2pm, everyone had arrived and they couldn't wait to dig in to our feast of hog roast rolls, and the birthday girl Phyllis was first in line to get her fill of gluten-free one, which she devoured with absolute relish.