Christmas is now over for another year, and it was back to business as usual for Hog Roast Windlesham yesterday when they catered for an informal birthday celebration in the local area.  With one of our regular clients, Derek approaching the grand old age of 80 his wife Maggie wanted to make sure he stepped into a new decade surrounded by family, friends and one of our mouth-watering hog roasts! Having handled several different events for the couple in the past including their most recent wedding anniversary dinner, Maggie trusted our team to come up with the perfect menu for Derek's big day and spoiler alert: We didn't disappoint.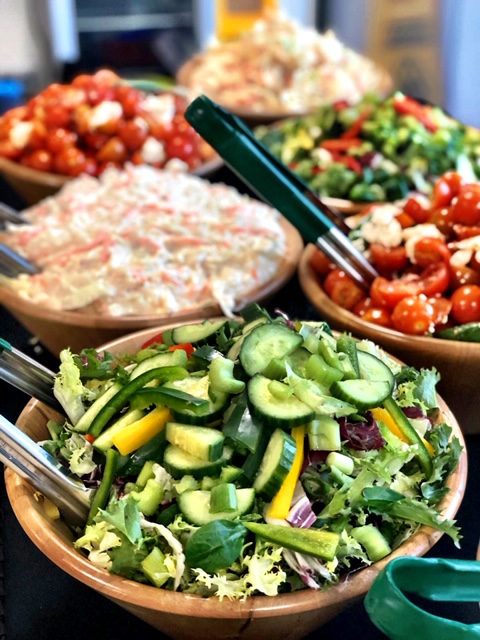 Knowing the tastes of the couple to a T, our resident catering manager decided to go ahead with their favourite buffet-style menu (the classic hog roast feast) only this time we added additional side options and a few meat-free alternatives for the vegetarian and vegan guests to enjoy. When Hog Roast Windlesham let Maggie know about the plans for the day, she could barely contain her excitement but fortunately, she managed to update the 65 guests on the arrangements for the party without letting her husband in on the surprise!
As the day of the celebration neared, the excitement among the guests only continued to grow and with Derek distracted for the entire afternoon, Hog Roast Windlesham arrived at the couple's home to prepare the birthday buffet ahead of his return.  Under the shelter of our trusty catering gazebo, the team effortlessly slow roasted the whole pig which rested on top of a mountain of our famous savoury stuffing and while the meat sizzled away, they turned their focus to the side dishes.
Using fresh, locally-sourced ingredients, the Hog Roast Windlesham catering crew whipped up a tantalising selection of creamy coleslaw, mixed salads, roast potatoes and grilled veggie skewers along with mushroom and halloumi burgers. The arriving guests were instantly drawn to the aromatic scents coming from the buffet table and when Derek arrived home he was ecstatic to see what his wife had arranged for him!
As usual, the food was well received and as the event drew to a close later that evening, everyone was left feeling full and satisfied.