Autumn weddings allow for beautiful décor and scenery, with a wide array of themes to choose from. It is the perfect time to host a rustic, boho, or spooky themed wedding as the leaves begin to turn orange and the nights get longer. Hog Roast Normandy have many menus that are perfect for autumnal weddings, but our alfresco catering package has to be one of the best!
This autumn, Hog Roast Normandy have catered for many seasonal weddings, providing catering to match the theme and décor of the event. One of our favourites to cater for was one that was hosted in a local function room, with orange and beige décor and fireworks for the entertainment. For the catering, our team was asked to provide a menu for 70 guests, including 10 vegetarians. After discussing the menus that we can provide, it was decided that our Southern Slow Roast menu was the perfect choice.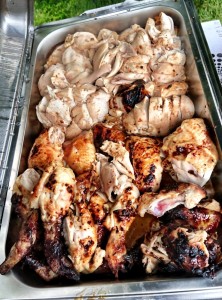 On the day of the reception, we began by slow-roasting the dishes for the main course, including a BBQ pork butt, Louisiana sticky pork ribs, and Cajun spiced chicken. For the meat-free option, we served vegetable and halloumi skewers. The main course was accompanied by a variety of sauces, including smoky sweet BBQ glaze, hot pepper sauce, and hickory bourbon BBQ sauce. For the side dishes, we served Greek salad, mac and cheese, potato salad, and roasted baby new potatoes. This created a delicious menu with a variety of dishes for the guests to enjoy, including something to suit every taste!
Our catering was a wonderful addition to this event since it was packed full of comfort food dishes that were perfect for an autumn evening.
Are you planning an autumn wedding in 2022? If so, get in touch with Hog Roast Normandy today to find out what we can do for you. With so many wedding menus to choose from, there is bound to be something that is just right for you. Simply let us know your party size, date, and location and we can do the rest.